SEAWALLS, BULKHEADS & PIPELINES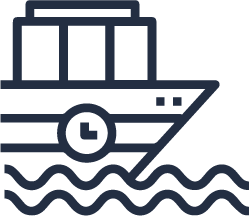 Marine FOundation SERVICES
TorcSill acquired AnchorPipe International in 2016, bolstering its Marine segment and adding offshore pipeline and structure stabilization to its suite of services. For more than 40 years, AnchorPipe has provided specialty helical piling and anchoring applications in the most challenging subsea conditions for its upstream and midstream customers around the world.
In 2020, TorcSill partnered with Arqa Marine Solutions to expand our footprint into commercial and residential seawall and bulkhead stabilization.
Whether you are a homeowner protecting 40 feet of residential shoreline, a commercial operator with a thousand feet of golf course bulkhead, or a contractor that services marine foundations, our novel solutions to your seawall problems will save you time and money.
The industry's most efficient seawall installation, maintenance, and repair processes, saving you time and money.
Sea-side implementation, leaving your land-side property un-disturbed.
Innovative solutions that are environmentally friendly, sustainable, use the highest quality materials, and allow for adjustment over time to protect your investments and ensure your peace of mind.
‍
SEAWALL SOIL STABILIZATION
Repair and permanently preserve your seawall with new, patent pending soil stabilization methods from our partner, Seawall Repair Network®.
Don't ignore the warning signs! Have you seen:
Cracks in your seawall?
Movements in your seawall?
Depressions in soil behind your seawall?
Rust or stains on your seawall?

Take immediate action once indications of soil instability behind the seawall become apparent.
Deploying a TEAM of highly trained professionals and specialty installation equipment, AnchorPipe works closely with operators and world class EPC customers and dive teams to deliver engineered buoyancy control and stabilization and mooring solutions for nearshore and deep-water applications. Evaluating soils data, buoyancy, current, wave and other hydrodynamic forces, TorcSill Engineering designs helical anchoring solutions for projects involving:
Floating Docks
Offshore Tie-Ins
Onshore Approaches
Outlet/Intake Piping
Pipeline Crossings
Pipeline Span Remediation
Solar Arrays
Subsea Structures
Subsea Work Habitats
Transmission Pipelines
Relying on decades of experience, the Anchorpipe Project Execution TEAM safely and efficiently installs the specified TorcSills from barges using a vessel-mounted crane rigged to its unique twin-drive installation system. The twin-drive system consists of two torque motors mounted in a steel frame that counterbalance the torque applied to both anchors, allowing for a complete anchor set (two anchors and the specified termination attachment) to be installed in a single approach.
Also ideal for remediation projects where scour and underwater currents have left pipelines exposed and unsupported, this type of construction operation greatly reduces safety risk, schedule and mobilization costs. Additionally, the no-vibration and low noise installation creates little to no impact to the marine life environment when compared to less reliable methods such as concrete set-on weights, concrete-coated pipe and sandbags.
With 13 Construction Services Operations locations and counting, we are where you need us to be.
Please fill out our online form to let us know about your project and foundation needs and we'll reach out soon.
Our clients trust us to provide foundations for some of the mostdemanding projects under construction today.
Solving pipeline buoyancy issues through 15 miles of water-inundated marshland in Louisiana. TorcSill was given the opportunity to provide its customer with a fully-integrated and environmentally conscious AnchorPipe solution, solving pipeline buoyancy issues through 15 miles of water-inundated marshland in Louisiana.
Read More »
Offshore buoyancy control and stabilization for various pipelines at two pipeline crossings in the Gulf of Mexico. TorcSill and its AnchorPipe TEAM designed and installed helical anchors to provide offshore buoyancy control and stabilization for various pipelines at two pipeline crossings in the Gulf of Mexico.
Read More »
Find out what torcsill can do for you